Why a Backyard Court is More Popular Than a Backyard Pool
Hey Readers,
Zach is back with another quick read!
You have to check out this SnapSports post about backyard courts and why they are more popular than a backyard pool.
Minn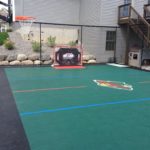 esota IS the state of hockey, which means it gets cold, cold, cold! You may only get to use a pool for 3-4 months a year (5 if you're lucky). Plus, with all the costly maintenance and constant upkeep, a pool can be a pain! An outdoor game court, on the other hand, requires virtually no maintenance except occasionally a broom and/or a shovel and can be used year round!  On those cold months where a pool would be frozen and unusable, you could flood the court and be playing…yes, you guessed it-hockey!
It just makes sense to invest in a backyard court instead of a swimming pool. A court can be easily customized to include any sport from basketball to volleyball, inline hockey, pickle ball, paddle tennis, shuffleboard, and many other sports and activities.
A pool is a pool is a pool……other than maybe having a diving board or a slide, all pools are the same: water and concrete. With a backyard court, the possibilities are ENDLESS! You give us an idea of what you want and we will customize a court to fit exactly what you're looking for. From the first meeting with us to the finished project, Millz House will be there every step of the way helping design and build the court of your dreams.
172 courts installed this year, will yours be next?!
Comment below and let me know what you think!
Signing off,
Zach Howard