Tired of looking at your old, cracked, dirty garage floor? Dreaming of a  a garage floor where spills wipe up easily, is low maintenance, and will expand your home's entertainment space?
A new decorative garage floor coating will not only look great, but will complete your home.  In addition to looking great, you will have another finished area for entertainment space: graduation parties, family parties, neighborhood get-togethers, kid space, man cave, etc. Here's the lowdown on how to achieve that beautiful finish!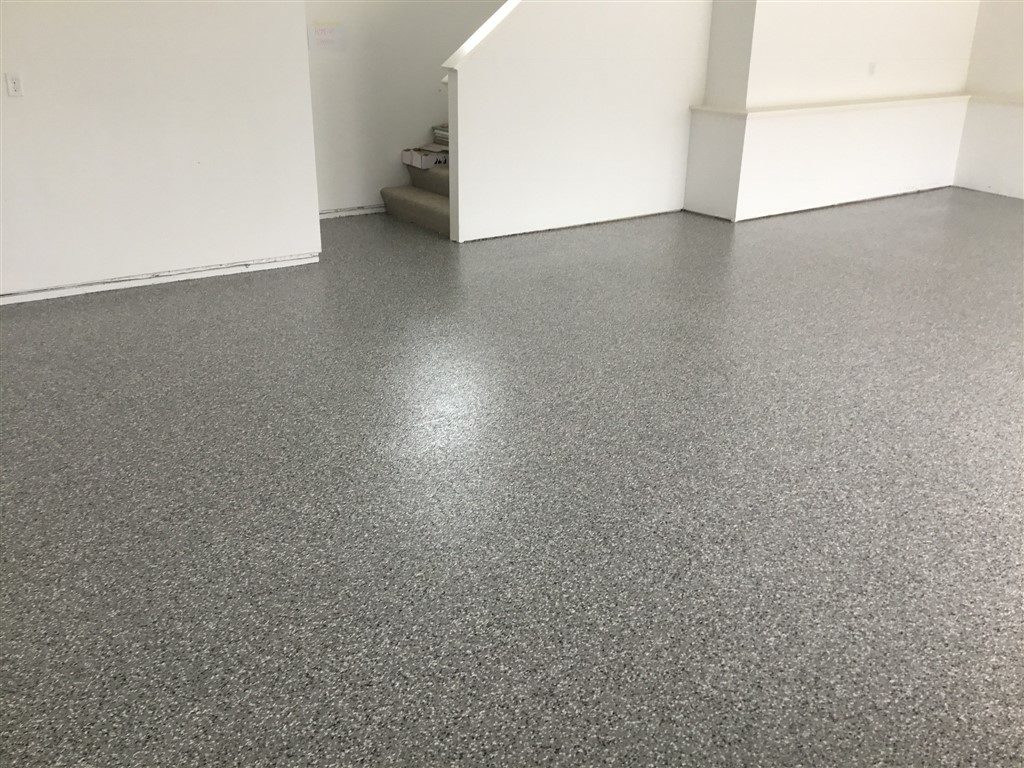 Millz House Floor Coating Process:
From start to finish, here's how we turn your dull garage into one you'll be happy to entertain in and your car will thank you because it will finally feel part of the family 🙂
Our team will thoroughly shot blast the entire surface of the floor. This step opens the pores of the concrete to enable the polymer base coat to bond to your existing surface. We will even grinder the edges to make sure nothing gets missed. Prior coatings or contaminants that have settled on the floor are removed.
Our installers will look over and fill in any cracks, spalls and pitted areas. Saw cuts are filled at no extra charge!
A thorough clean-up and the guys will start putting down the base coat which is a thick, self-leveling, penetrating polymer.
Next comes the pretty part; UV color chips are evenly broadcast over the base coat. Excess chips are laid down to ensure complete coverage of the garage floor. While curing, the UV color chips will intertwine and embed themselves into the base coat to create a multi-layered surface.
Once the base coat has cured long enough, any excess UV color chips are swept up and collected.
The last step is the top coat; let's make it shine! We use a Polyaspartic topcoat that encapsulates the UV color chips to create a seamless, slip resistant, shielded surface. This top coat is the highest quality, longest lasting safeguard for your garage floor!
Now for the big party to show off your new floor! Also your car can rest easy knowing it's family 🙂
I hope this information was helpful and enlightening!
Take the first step towards your own beautiful garage floor. Contact Millz House today for a free, no obligation quote.
Signing off,
Zach Howard